The Tuskegee Airmen were dedicated, determined young men who enlisted in the U.S. Army Air Corps to become America's first black military airmen. They accepted the challenge during a time when many people thought that black men lacked intelligence, skill, courage and patriotism. They were trained at Tuskegee Army Air Field (TAAF) in Tuskegee Alabama. These men came from every part of the country; each one possessed a strong personal desire to serve the United States of America at the best of his ability.
The first aviation class with 13 cadets began July 19, 1941. Nine months later in March 1942, five of the 13 cadets in the first class completed the Army Air Corps pilot training program and earned their silver wings and became the nation's first black military pilots.
From 1941 through 1946 close to 1,000 pilots graduated from Tuskegee Army Air Field, receiving commissions and pilot wings. Three hundred and fifty-five of the pilots served overseas with the 99th Pursuit Squadron (later the 99th Fighter Squadron) and the 332nd Fighter Group. There were some 15,000 Tuskegee Airmen in total which included pilots, navigators, bombardiers, mechanics, doctors, nurses, instructors, maintenance, and various administrative personnel required to support a fighter group.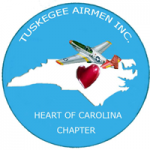 The Tuskegee Airmen will live on forever in the pages of history. They succeeded in proving to the world that blacks could fly while displaying skill, determination, and suppressing rage from the humiliation and indignation caused by repeated experiences of racism and bigotry.
These men fought two wars – one against a military enemy force overseas and another one against racism at home.
Tuskegee Airmen, Inc. was formed in 1972 to motivate and inspire young Americans to become participants in our nation's society and its democratic process. There are more than 50 active chapters of TAI located in major cities and military installations throughout the United States. The membership of TAI consists of civilians and veterans, as well as military personnel from all branches of the service. You can read more about the TAI's mission and history here.
The Raleigh / Durham Heart of Carolina Chapter (HOCC) was founded in 2004.  Dr. John Driver, an original Tuskegee Airman, and his wife, Lavon-De, were key individuals in the development of the chapter.  During the few short years of its existence, HOCC has established several programs to promote the Tuskegee Airmen, Inc. mission:
Membership Drives
Middle School Youth Programs
Elementary & middle school speaking engagements
ACE Camp support
Scholarship Fund
Membership in Tuskegee Airmen, Inc. and the Raleigh / Durham Heart of Carolina Chapter is open to all people. All TAI chapters embrace diversity and welcome women and men, of all races, ethnicities, religions, sexual orientation, abilities and financial circumstances.
Help us continue the legacy of the Tuskegee Airmen and support our youth programs by contacting the Heart of Carolina Chapter for information about membership or corporate sponsorship.