HOCC Scholarship Recipients
2012- Gorkem Baydar, Gilford County Technical Community College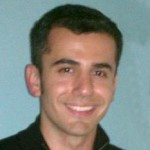 Gorkem Baydar was originally born in Turkey and lived there for nine years. He moved to the United States with his family in 1995, and is currently a citizen of both nations. He has lived in the Piedmont Triad for over 12 years, and is currently enrolled in the Aviation Management/Pilot Technology program at Guilford County Technical Community College. He is currently working full time at Landmark Aviation at Piedmont Triad International Airport and attending school full time.
Gorkem entered  school in spring of 2011. This year he was nominated as a Student Ambassador for GTCC, a position which is offered to students with a GPA of 3.0 or higher and an excellent attendance record.  He volunteers for local events for the school as well as the school's flight team.  His GPA is 3.42, and he is a member of the Alpha-Eta-Rho which is the oldest pilot fraternity in the world.
When he completes his degree and obtains a commercial rating, his plan is to start flying for a local Part 91 flight department. Once the necessary flight hours are acquired, he hopes to begin his airline career as a pilot with one of the regional airlines.  His ultimate goal is to fly international routes as a captain for one of the major airlines.
Here's what Gorkem said about his current collegiate environment:
"I have fully submerged myself into aviation since the time I started school at GTCC. I feel that if I am to succeed, I have to eat, sleep and breathe aviation. I am a member of AOPA, which has been a great gateway into the world of aviation.  Also, my job at the FBO at KGSO allows me to familiarize myself with the world of aviation."
2011- Valarie Marie Edwards, Elizabeth City State University

Valerie Marie Edwards was born in Wilmington, NC on November 1, 1990.   She is a junior at Elizabeth City State University majoring in Aviation Science and Mass Communications.  Her future goals consist of becoming an International Pilot, an aviation news journalist, and possibly working for NASA.   Valerie has a strong passion for research and just completed a research project on Mobile Robotics.   As a researcher she loves public speaking and has high hopes of having some of her research published.
At ECSU she is a part of twelve organizations:  Vikings Assisting New Students, Active Minds, Women in Aviation International, National Society of Leadership and Success, Student Activities Committee, Green Council, Student Court, Lady Vikings Tennis team, National Council of Negro Women, Students in Free Enterprise (SIFE), the Ronald E. McNair Scholars Program, and the Pre-Alumni Association. In addition, Valerie is currently working on establishing a non-profit organization to help her community.
2010 – Bianca Foster, North Carolina A&T State University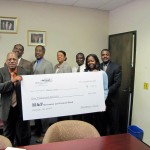 Bianca Foster transferred into Greensboro's North Carolina Agricultural and Technical State University from Spelman College through the Dual Degree Engineering Program in the Fall off 2009. While attending North Carolina A & T, she took on a cooperative education assignment with GE–Aviation in Cincinnati, OH, where she worked as a Product Service Engineer with the CF6 One Engineering team. Currently Bianca's grade point average is 3.16. She is well disciplined and an excellent student, with a desire and motivation to succeed with any task that is placed in front of her. Bianca is a current Xerox Scholarship recipient as well as an Honors Student.
2009 – Timothy Bradley, Guilford Technical Community College
Timothy Bradley was a first year student at Greensboro Technical Community College, pursuing an Associate*s Degree in the field of Aviation Management, with plans to enter a bachelors program related to aviation safety or air traffic control. He attended Holly Hill-Roberts High School, where he graduated in the top 10% of his class. His academic achievements were recognized by being selected to Who's Who Among American High School Students and The United States Achievement Academy. Timothy earned a GPA of 3.357 during the first semester at GTCC, while carrying a full load of 15 hours and working full time.