Chapter Mission

Heart of Carolina Chapter (HOCC) is a local chapter of Tuskegee Airmen, Inc. (TAI). TAI is a non-profit organization whose mission is: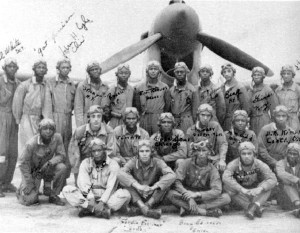 1. Honoring the accomplishments and perpetuating the history of African-Americans who participated in air crew, ground crew and operations support training in the Army Air Corps during WWII, and became known as the Tuskegee Airmen.
2. Introducing young people across the nation to the world of aviation and science through local and national programs such as Young Eagles and Tuskegee Airmen, Inc. youth programs.
3. Providing annual scholarships and awards to deserving individuals, groups and corporations whose deeds lend support to Tuskegee Airmen, Inc.'s goals. TAI also gives awards to deserving cadets in the Air Force Reserve Officer Training Corps.
In February 2004 the first organization meeting was held by several individuals who, within 3 months, would form the Heart of Carolina Chapter of Tuskegee Airmen Inc. and was located in the Research Triangle area of North Carolina. Dr. John Driver, an original Tuskegee Airman, and his wife, Lavon-De, were key individuals in the development of the chapter. "Bill" Williams, who had a long history of involvement with TAI, was the first president of the chapter. Bill was also director of the North Carolina Department of Transportation – Aviation Division, and helped to establish a great working relationship between HOCC and NCDOT.
The meeting date and time was established as the third Saturday of each month at 10:30 am. The chapter was chartered by the Tuskegee Airmen, Inc. national office in 2005. For many years we have been the guests of the North Carolina DOT Aviation facility at Raleigh Durham International Airport.
The following are charter members of the Heart of Carolina Chapter of Tuskegee Airmen, Inc.:
Dr. John H. Driver, original TAI
Dr. John B. Turner, original TAI
William "Bill" Williams – President
Lavon-De M. Driver – Secretary
Keith Brickhouse
Dr. Theodore H. Brooks
Weston Butler
Gwendolyn Goode
Jonathan "Jon" Hinton
Gloria McNeill
Linwood McNeill
Charles Suitt
During the few short years of its existence, HOCC has established several programs to promote the Tuskegee Airmen, Inc. mission.
Membership Drives
Middle School Youth Programs
Elementary & middle school speaking engagements
ACE Camp support
Scholarship Fund
Along with North Carolina DOT, HOCC has garnered the support of LORD Corporation and Time Warner Corporation. We hope to cultivate more supporters of the same quality during the next few years.
As you browse through the pages of this web site, you will learn more about Tuskegee Airmen, Inc. and of the people who composed a little known, but intriguing part of American history–people who will forever be known as Tuskegee Airmen. You will also see activities that HOCC sponsors and actively supports.
We welcome the opportunity to discuss your interest in the Tuskegee Airmen experience, TAI, and the Heart of Carolina Chapter.